Mobile Health, Safety and Wellbeing Units support more than 5,000 rail industry colleagues since launch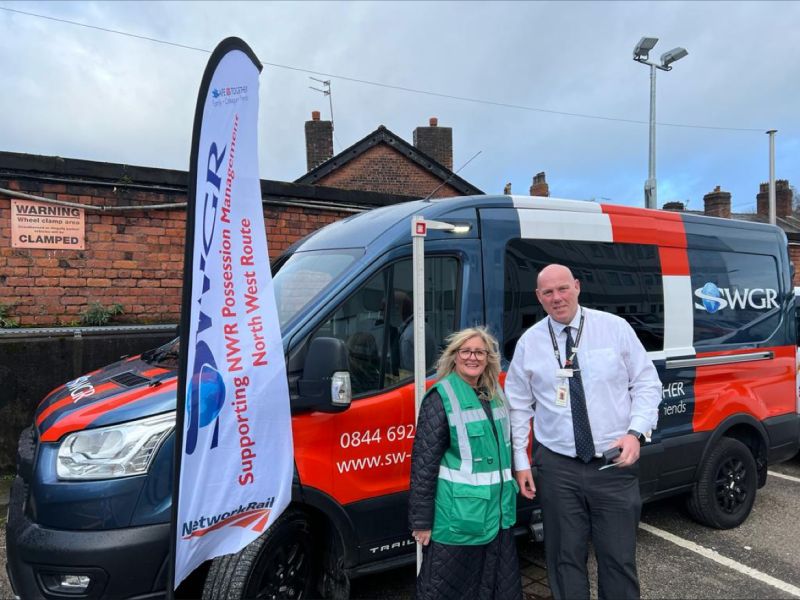 More than 5,000 frontline rail industry employees have now received free health check and mental wellbeing support on the frontline thanks to an innovative investment to keep UK rail colleagues safe.
Three years after rail infrastructure specialist SWGR launched its Mobile Health and Safety Wellbeing Units to deliver health and mental wellbeing checks to all colleagues (including SWGR, Supply Chain Partner and client colleagues) directly on the frontline, it has seen a surge in interest and has supported a significant number of people to ensure they get the support they need.
Operated by an occupational nurse and equipped with specialist equipment, the units offer complete health checks (including blood sugar, cholesterol, and blood pressure tests) to frontline workers. They also provide mental health support and advice, in partnership with charity Mates in Mind.
The units are also accompanied by an SWGR Wellbeing Ambassador, who supports engagement with colleagues into the units.
This free mobile service has been made available, not just to SWGR's frontline team, but staff from its supply chain partners and clients. It was introduced after the company realised that many frontline employees were failing to take up the offer of health checks at its head office and has been essential in creating a safer workplace for all on the frontline.
Recognising that this reflected a wider problem, SWGR sought to become a catalyst for change – and to transform the rail industry's approach to health and wellbeing.
The ground-breaking initiative was well received – and now, the number of frontline employees who have accessed support via its units has exceeded this latest significant milestone.
Reflecting on this milestone, director of business services Fiona Baggley said: "We're thrilled that our Mobile Health, Safety and Wellbeing Units have proved so popular, delivering a truly essential service to frontline employees.
"At SWGR, we're committed to driving positive change – and this initiative was our way, not just of giving back to the industry, but of starting a much-needed conversation about health and wellbeing. The response it has received – and the gratitude our employees, supply chain partners and clients have expressed – shows just how valuable and needed it is. We look forward to supporting more frontline colleagues in years to come – and push this initiative to become an industry standard."
SWGR has worked with some of its clients to lead by example and use the units for a health check. Phil James, Route Director North West, Network Rail, has recently completed a health check in one of the units.
He said: "Thank you SWGR for this opportunity to use this fantastic facility.
"It was also great to see so many of my colleagues at the delivery unit take advantage of this. Too often we put other priorities ahead of our physical and mental health so investing 15 minutes or so of our time was really worthwhile."
Volker Rail's Director Major Projects, Stuart Birch, said: "The use of these units has been fantastic in the projects we have worked with SWGR on.
"We have had the pleasure of working with SWGR for many years and their safety record, their values, their work family approach, and professionalism is the benchmark for others to aspire too. I would unequivocally commend SWGR and its leadership for changing culture at pace, but in a structured and compliant manner and without importing risk to ongoing delivery plans."